2016 Honda Civic Takes Home High Prize from AutoGuide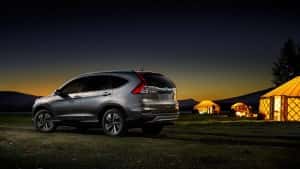 Critics and experts alike continue to rave about the popular Honda Civic. This favorite model among drivers has recently brought home top honors, having been named AutoGuide.com's 2016 Car of the Year.
Winning Elements
The 2016 Honda Civic boasts many impressive attributes that ultimately brought it into the winner's circle in the eyes of the experts at AutoGuide, including:
Refined styling
Cutting-edge technology
Sporty performance
Class-leading reliability
Exceptional versatility
Impressive fuel economy
Supreme safety features
Overall value
The AutoGuide team was especially wowed by the posh style and new available 1.5L turbo engine featured in the new Civic.
The editorial director at AutoGuide called the 2016 Civic "easily the best all-around package I've driven, not just this year, but in a very long time," lauding its exemplification of Honda's reputation for quality, reliability, and durability.
Among assets that caught AutoGuide's attention, the new Civic boasts:
A fresh vehicle architecture
New interior and exterior styling that is refined and sporty
Revamped cabin that is more spacious and features higher-quality offerings
Two advanced new engines
Prime new features that include Apple CarPlay, Android Audio, available Honda Sensing, and much more
Offering drivers more options than ever before, the Civic continues to reign as a smart consumer choice and a driver favorite.
Civic Firsts
When Honda created the new Civic lineup, it was with the desire to revitalize this popular, long-running model and outshine not only Civic's usual competitors but also vehicles in the luxury compact class.
The new Civic lineup features the superb elements drivers have come to expect in this impressive vehicle, like its class-leading fuel economy, and some new milestones have also been achieved for the 2016 model year, with notable firsts for both Civic and Honda.
One noteworthy fact is that, for the first time ever on a Honda vehicle, development for the new Civic sedan was helmed by a North American team.
The 2016 Civic models also carry beneath their hoods the very first turbocharged engines to be found in the Civic line.
Hit the Road in the Award-Winning Civic
Visit Bosak Honda Highland to explore and test drive the award-winning 2016 Honda Civic and experience firsthand the many prime features that have made this car a favorite and a winner. Come in or contact us today!