Benefits of Buying Honda Original Parts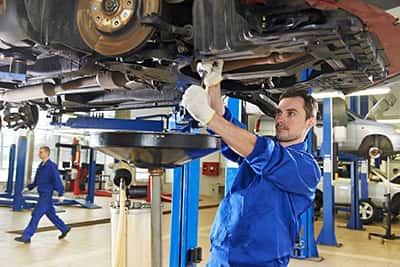 When it comes to vehicle repairs, there are various reasons for buying Honda original parts as opposed to aftermarket parts, which means any parts that didn't come from your vehicle's manufacturer.
Car owners, mechanics, and insurance companies often tend to favor aftermarket parts because they're typically less expensive than original equipment manufacturer, or OEM, parts. But does cheaper equal better?
Protect Your Warranty
The reasons for sticking with OEM parts are plentiful.
If your vehicle is still under warranty, for instance, and you have it repaired using an aftermarket component, you run the risk of warranty problems if something goes wrong.
Let's say you have your car repaired somewhere other than a dealership. Aftermarket parts are used and you've saved a little bit of money. However, sometime down the road, your car starts having problems.
When your dealer begins exploring the new issue in order to have it repaired through your warranty, probable cause is uncovered that the aftermarket parts used by the non-dealer mechanic could be part of the problem.
In a case like that, the burden of proof rests with the dealer to show the aftermarket or recycled part was the catalyst for the vehicle's issues. If the dealer can prove that, your warranty can be denied. Once that happens, the warranty is invalidated on that part of your vehicle and you'll thereafter only be covered under warranty on the unaffected parts of your car.
In addition to taking the safe road and opting for dealer repairs with genuine OEM parts, the Federal Trade Commission offers some additional tips to help drivers avoid warranty issues:
Read your warranty and know its details.
Know the time period your warranty covers.
Document problems with your vehicle as soon as they happen.
Keep all your service records.
Go to a higher authority if you think a dealer is trying to invalidate your warranty unjustly.
Issues of Uncertainty
Another common problem with aftermarket parts is there are so many different makers, and the spectrum of quality is huge. You can just as easily end up with a poor quality part as a good one.
Conversely, with OEM parts you always know what you're getting and where they're coming from, and they ordinarily include a warranty of their own in addition to any vehicle warranties you're already covered by.
Also, when you have work performed by a certified Honda dealer, the work itself is guaranteed in addition to the parts used.
Genuine Honda Repairs and Parts You Can Count On
Visit Bosak Honda Highland or contact us today for all your vehicle repair and parts needs. Rest easy knowing your car is being repaired with genuine Honda parts by a reliable Honda dealer.