Charming Musical Sheep Steal the Show at Super Bowl 50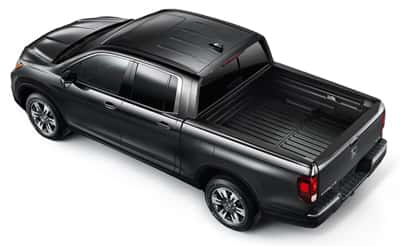 Some singing sheep and the 2017 Honda Ridgeline may well have stolen the show on Super Bowl Sunday.
During Super Bowl 50, the new Ridgeline was featured in a 60-second commercial directed by "King of the Super Bowl" Bryan Buckley, an Oscar nominee. The premise? A rancher and his sheep demonstrate one of the new Ridgeline's available features: the very first factory truck-bed audio system offered in the industry, which plays music on the outside of the truck.
Have You Heard the Harmonious Herd?
In the commercial, the rancher drops off his sheep in a field, and the fleecy members of the herd amazingly begin singing a rendition of Queen's "Somebody to Love" as soon as the rancher has driven out of sight.
The singing silences when the rancher returns. He turns on the truck-bed audio system and "Somebody to Love" blares from the truck bed. When the rancher leaves for the second time, his sheep once again burst into song.
The Super Bowl spot has kicked off a new wide-ranging multiplatform campaign, marking not only Honda's return to the Super Bowl but the return of the Ridgeline to the automotive market, as well.
Party in the Back
The Ridgeline is being touted as "the ultimate tailgating vehicle," making the Super Bowl a prime venue for introducing the truck.
In addition to the truck-bed audio system, which is perfect to make your truck the highlight of any tailgate party, the commercial also shows off the Ridgeline's in-bed storage trunk, offered standard, and the dual-action tailgate, also offered standard. All three features are industry exclusives.
The Commercial and a Contest
A fun fact: The commercial, titled "A New Truck to Love," was filmed using real sheep and a trained sheepdog. The anatomy and behavior of sheep were studied prior to the making of the commercial, including sheep mouth movements to see how a sheep's facial muscles might respond if the sheep were singing.
In a first for a Honda new vehicle launch, the automaker is hosting a contest in conjunction with the new Ridgeline campaign, and consumers who place an online request for information about the Ridgeline at www.campridgeline.com can enter for a chance to win a "Camp Ridgeline" riding and driving experience for two at Rio Cibolo Ranch in San Antonio, Texas.
Stay in the Know
Drivers can stay updated about the forthcoming 2017 Honda Ridgeline at Bosak Honda Highland and be among the first consumers in their area to check out this impressive truck when it hits the market.
Visit Bosak Honda Highland or contact us today.