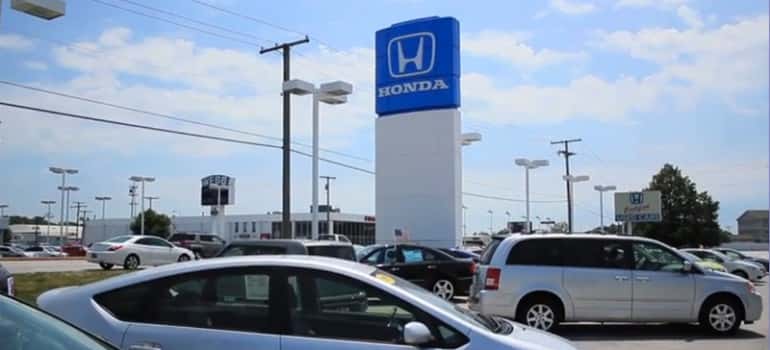 Welcome, Valparaiso!
Two Convenient Honda Dealer Locations for Valparaiso Drivers
Having reliable service performed on your Honda is important for the long-term life of your vehicle. That's why when you're looking for a Honda dealer near Valparaiso, you want one that also specializes in Honda maintenance, repair, and auto parts. You can get your oil changed anywhere, but only a certified Honda dealer like Bosak Honda follows the Honda factory recommended maintenance schedule that is specifically tailored to your Honda's needs. Whether you need an oil change, brake repair, muffler replaced, new spark plugs, hoses, filters, systems flushed, tires, or full auto body repair, Bosak Honda has you covered!

Honda Parts Keep Your Vehicle in Top Repair
When Valparaiso drivers have their vehicle serviced at Bosak, they can trust that we'll keep your Honda up to date with your Honda factory warranty, and repaired only using Genuine Honda Parts. Honda parts are distinctively designed to work with your Honda's moving parts to ensure optimum vehicle performance for miles to come. Other dealerships or repair shops may try to entice you with cheaper parts, but you'll only end up paying more, as inferior parts don't last as long as factory certified parts. Bosak Honda also makes it easy for the at-home mechanic by offering a full line of Honda parts. Simply enter your vehicle information or a specific part number you're looking for and we'll call you when your order is ready at the dealership. If you're not exactly sure what you're looking for, just call our service department directly at 800-949-7915, and a service technician will help answer any of your questions. Bosak Honda makes Honda maintenance and buying parts easy and stress free!
Complete Honda Service for Valparaiso at Bosak Honda
Don't cut corners with your Honda; bring it in for service at Bosak Honda at either of our convenient Highland or Michigan City, IN locations, with convenient access for Valparaiso drivers. Bosak Honda Highland is located at 9800 Indianapolis Blvd in Highland, IN. Just take Rt. 30-W from Valparaiso. We're open six days a week to better suit your schedule, and a friendly team of Honda service experts to meet all of your Honda maintenance, parts, and auto body repair needs! Make an appointment with the Honda experts today!