Welcome, Chicago!
Come to Bosak Honda Near Chicago for an Oil Change
An oil change is an essential part of vehicle maintenance. Though the process is simple, you wouldn't get far on bad oil. At our Chicago, IL-area Honda service center, we'd be happy to take care of your routine oil changes. Our dealership used fluids and filters that are recommended for your car. We can also provide all types of routine maintenance while you're here and give you a standard diagnostic checkup.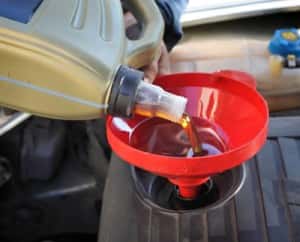 Why You Need an Oil Change
We've seen plenty of customers wait too long to get their oil changed. Your oil is made with additives that help reduce engine heat and keep everything lubricated. Over time, those additives lose their strength and don't work as effectively. Additionally, the oil will get dirty over time running through your engine. The oil filter, meant to clean the grime from the oil, will eventually get too dirty too function as well.
So what happens if you never change your oil? Well, heat in the engine will start to build and things could actually get so hot that your engine will stop functioning or even fuse together.
Schedule an Oil Change at Bosak Honda
Now that you know the importance of a regular oil change, it's time to get one. We offer service hours Monday through Saturday each week. You're welcome to come any time we're open, but if you don't have time to waste, we encourage you to schedule a service appointment.
To schedule service, you can first try calling our service department directly at (800) 949-7915. Many people also like the convenience of making an appointment online, which they can do easily at work and can't make personal calls. You can schedule service online even when our dealership is closed.

Come to Bosak Honda Near Chicago, IL
Come to Bosak Honda whenever you need an oil change or any other type of vehicle maintenance. We're just across the Indiana border in Highland, about 35 minutes from Chicago via I-94 East. You can find us at 9800 Indianapolis Boulevard, just south of 45th Street. If you have any questions about our oil changing procedure or when to get an oil change, please call the service department.