Welcome, Lansing!
Get Your Oil Changed Today at Bosak Honda!
If you're a driver in the Lansing area looking for a quality service center at which to get your oil changed, be sure to stop by Bosak Honda near Lansing. We're conveniently located just 12 minutes southeast; just take Ridge Road east and make a right onto Indianapolis Boulevard – you'll see us on right!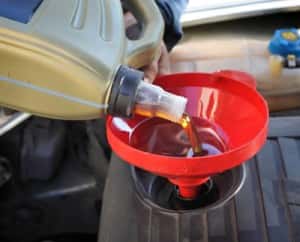 The Importance of Regular Oil Changes
Oil is not only instrumental in keeping the engine's various components properly lubricated, it also helps dissipate the heat created by the engine. These two functions are essential to preventing your engine from sustaining excessive wear through heat and friction. Oil also contains various additives which help keep your engine running efficiently at a variety of temperatures, in addition to preventing dust and grime from settling on engine components and causing them to degrade.
Why You Should Get Your Oil Changed at Bosak Honda
Regular oil changes are important – but does it matter where it get your oil changed? As it turns out, where you get your oil changed can be nearly as important in the long run as when you get it changed. At a professional shop like the Bosak Honda service center, we don't just swap out your vehicle's oil and screw on a new filter, we also get the opportunity to take a look at the rest of your vehicle's vital components. And if we notice that something's wrong, we'll have the change to do something about it before it turns into a big, expensive repair job.

We also pride ourselves on using only the best motor oil and filters – the very same fluids and parts that are recommended by your vehicle's manufacturer. This way, we can be sure that your car, truck, or SUV is getting precisely the type of oil it needs, reducing wear on your engine and improving efficiency.
Make Your Oil Change Appointment Today!
If you're going to be due for an oil change in the next few weeks, don't delay – make your appointment at Bosak Honda in Highland, Indiana. It's now easier than ever to make an appointment with us: just click over to our online service scheduler, and you'll have an oil change appointment in no time at all!