Need an Oil Change Near St. John? Visit Bosak Honda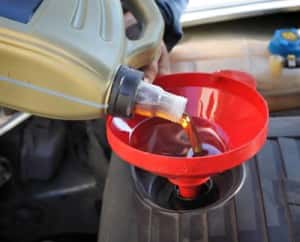 It can be tough to find a car dealer you can trust, and if you're looking for a St. John-area Honda dealer that can handle all of your service needs—including your oil changes and tire rotations—then you want to visit Bosak Honda Highland. Yes, many drivers all over the Midwest know that the Bosak name is associated with great new Honda cars, but we also have a state-of-the-art service center with Honda-trained technicians on site.
If you're one of the many drivers putting off your oil change right now, we invite you to read on as to just why you should bring your car to Bosak Honda and let our techs look at your oil and filter.
Why Should I Change My Oil?
While many drivers don't know a lot about what goes on under the hood of their car, we think everyone knows at least a few things: engines have lots of fast-moving parts and can get pretty hot. That's all you need to know to understand why you need regular oil changes.
Oil is a lubricant that keeps the machinery of your engine slipping and sliding back and forth without generating too much friction. Think of rubbing your hands together on a cold morning to keep warm, but much, much faster, and you can get an idea of just what happens when an engine isn't lubricated. That kind of heat can warp and damage expensive engine components.
Now, your vehicle already has oil in it, so why do you need to change it? Although oil works great as a lubricant when fresh, after it has been used for a while, it can pick up grit and grime. The oil can also break down. What this means is that after you've had oil in your vehicle for a while—we go by the 3-month/3,000-mile rule—you'll want to switch it out for something fresh.
As Bosak Honda, we use only the manufacturer recommended oils and parts for your vehicle, too.
Schedule Your Oil Change Today
Our service center is open six days a week for your convenience, but to make things even easier, you can set up your oil change online. We're in Highland, just a quick drive from St. John, and we think that once you see how well we take care of your vehicle, you'll understand why so many area drivers make us their full-service Honda dealer.
Visit Bosak Honda Highland and see the difference today.