Hello, Valparaiso!
Where You Get Your Oil Changed in Valparaiso Makes a Difference in Vehicle Performance
You shouldn't trust your vehicle maintenance to anyone except the pros, which is why when it's time for an oil change in Valparaiso, IN it's time to come into Bosak Honda. We specialize in all things Honda, which is why we use manufacturer recommended fluids and filters that are specifically designed to keep your Honda running in top condition. The type of oil that your vehicle requires to run at peak performance, as well as your oil change schedule, varies based on the type of vehicle you drive, how far you drive on a daily basis, and even the seasonal temperature changes. The experts at Bosak Honda know exactly what your Honda needs to keep running like new.
Bosak Honda Keeps Your Engine Moving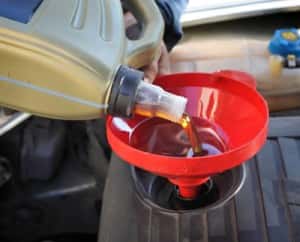 Valparaiso drivers need to know how important regular oil changes are to maintain ideal engine performance. Oil is required to keep your Honda engine's moving parts properly lubricated so your engine can safely operate and maintain peak fuel efficiency. Failure to change your oil, or settling for a cheaper, inferior product, leads to gunk and buildup that can cause moving parts to grind together, zapping fuel efficiency and potentially leading to parts fusing together and obliterating the engine.
At Bosak Honda, we make sure all of our Valparaiso Honda drivers are on the correct oil change maintenance schedule with the manufacturer recommended oil to keep all of the internal parts running smoothly. We also make it easy to schedule an appointment, with the option of 24/7 online scheduling or calling one of our service professionals directly who can answer any of your questions.

Two Convenient Valparaiso Locations
Valparaiso Honda owners can bring their Honda in for an oil change at either or our two Bosak Honda dealer locations. Visit Bosak Honda Highland located at 9800 Indianapolis Blvd., or Bosak Honda Michigan City located at 710 U.S. Rt. 20. Valparaiso drivers will find fast, friendly customer service and specialized Honda maintenance you can count on for miles to come.