Compare 2019 vs 2018 Honda Civic
Specs at a Glance
2019 Honda Civic
MPG (City/Highway)
30/38 *
---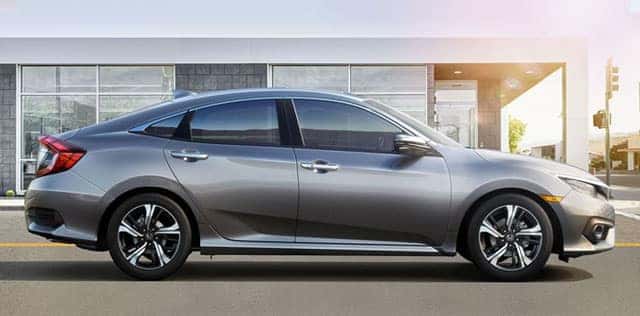 2018 Honda Civic
MPG (City/Highway)
28/40 *
Transmission
6-speed manual
2019 Honda Civic vs 2018 Honda Civic
Proudly Serving Highland, IN
The Honda Civic is one of the highest-rated vehicles on the road that is considered to be reliable and has a high level of performance. The sedan has had a long history in the auto industry and continues to change and improve each year. When you're looking to purchase a new Civic, you'll want to compare the 2018 Honda Civic model to the 2019 Honda Civic.
Performance
The 2019 Honda Civic doesn't disappoint when it comes to performance and is known to handle well and offer a great ride. The car gets good fuel economy with 32 mpg city, 42 highway, and 36 combined. The engine is quiet but still manages to generate 158 horsepower. The steering is impressively compliant, allowing the car to handle corners with ease. It also offers thrilling turbo engines that are available on different trims. Navigation comes standard on the car, and leather seats are optional.
The 2018 Honda Civic offers great driving performance with accurate steering and responsive brakes. The vehicle comes standard with a 2.0-liter four-cylinder engine that pumps out 158 horsepower. Drivers can also choose to upgrade to the turbocharged 1.5-liter four-cylinder engine on upper trims, which have 174 or 180 horsepower. The car proves to be substantial and capable, whether you're cruising on the highway or are driving on a road with a steep incline.
Appearance
One of the top features on the new Honda Civic is the 18-inch wheels, which look chic and add extra bling to the exterior. The LED headlights add a luxurious touch that makes the car appear sleek while driving at night. The sedan boasts a sharp body that has futuristic headlights and a compact grille that features a large chrome bar. The tail lights are also futuristic and are chunky, making the vehicle stand out on the road and appear more recognizable compared to similar models.
There is plenty to appreciate with the 2018 Honda Civic's exterior, which has a hood that protrudes and plenty of black accents that add a bit of edge to the model. The rear has a steep slope but looks innovative and futuristic with oversized headlights that are similar to the 2019 model.
Features
A wide range of trims are available with the 2019 Honda Civic, providing consumers with more options. The car is built with active lane control, airbags, stability control, emergency braking, and adaptive cruise control. The screen is also larger than its predecessor and has increased from a five-inch screen to a seven-inch screen. The infotainment system is more advanced and is now compatible with both the iPhone and the Android. A rearview camera is an additional feature that eliminates blind spots and reduces the risk of a collision or minor fender bender.
Features are abundant on the 2018 Civic and include a USB port, a five-inch display screen, a rearview camera, and Bluetooth. Drivers can also choose to upgrade to available features that include a moonroof, dual-zone climate control, push-button start, collision mitigation braking, lane departure warning, adaptive cruise control, and lane keep assist. An abundant amount of trunk space is also provided for added convenience with 15 cubic feet available, allowing plenty of items to fit in the trunk space.
If you want more information about how the 2019 Honda Civic compares to the 2018 version, contact our dealership today to speak to an expert. We're here to help you find the right car and can assist you in browsing our extensive inventory of vehicles on our lot.
---
* Based on 2019 EPA mileage ratings. Use for comparison purposes only. Your mileage will vary depending on how you drive and maintain your vehicle, driving conditions and other factors.
Based on 2018 EPA mileage ratings. Use for comparison purposes only. Your mileage will vary depending on how you drive and maintain your vehicle, driving conditions and other factors.