Conquering the Cold in a Brand New Honda
We know that many of our readers are Midwesterners, and if you've survived one or two winters in the Midwest, you're probably made of some pretty stern stuff. At the same time, we don't think that there's anyone that loves leaving the comfort of their home for the ice-cold seat of a car. Even if you've got a garage, there's a good chance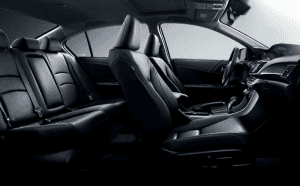 that your car is pretty far from cozy on a winter morning, but we can help.
When you buy a car from Bosak Honda in Highland, you can get a new Honda model with heated front seating to make that trip to the store or that drive to work or school a bit more manageable in the dead of winter.
We recently reached out to some of our drivers for stories about how a Honda with heated seating has impacted their life, and one story in particular stood out to us.
Defrosting in My Honda
When I bought my new Honda Accord, I upgraded to the Touring trim level for its high-tech features and satellite-linked navigation; I figured that since I had a garage, the heated seating wouldn't really be a feature I would use much, if at all.
Then we had the first cold snap, and I felt myself shiver as I walked into the garage with my keys in hand. Maybe I'll try out those heated seats today, I thought to myself as I shut the door and turned the key over. I went from freezing to comfy in a matter of seconds, and by the time I got to work, I had to pry myself from the comfort of the driver's seat. The good feelings didn't stop there, though; I was relaxed throughout my whole day at work, all because I didn't have to make my morning commute sitting on cold leather.
Now I wish I'd taken the salesman up on his suggestion of a remote ignition system…
Get Cozy in a New Honda
As far as winter amenities go, heated seating is one of the best, and you can find it on nearly any Honda. This particular story came from a driver who upgraded her Accord and wasn't particularly interested in heated seating until winter hit. It's not a literal lifesaver like all-wheel drive can be, but it sure did make her winter mornings enjoyable.
Let us find you a car with heated seats; contact Bosak Honda in Highland today.