Honda: A History of Quality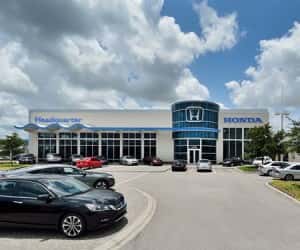 We at Bosak Honda Highland are very proud of our wide inventory of Honda vehicles, but it goes far beyond the wonderful selection and critical acclaim of the Honda brand. Many drivers don't know much about the automaker's storied history of providing high-quality vehicles at an affordable price, and everything they had to do to become one of the world's leading auto manufacturers. This is why we really love being a Honda dealership. Let's take a look.
Highlights from the History of Honda
Honda was a small, fledgling company in Japan in 1947, when it produced its first product: the A-Type bicycle engine, innovative and fuel-saving. It only took a few years before, in 1959, American Honda Motor Co., Inc. was established as the first subsidiary of Japan's Honda Motor Co., Ltd. The first popular motorcycles it sold were the Dream, Benley, and Honda 50.
In 1962, Honda launched its historically significant "You meet the nicest people on a Honda" ad campaign, working to significantly improve the image of motorcycles in America. Jump ahead to 1977: at 40 mpg, the Honda Civic CVCC is #1 on the EPA's list of most fuel-efficient vehicles—the first of such rankings. Then, in 1979, Honda became the first-ever Japanese automaker to begin manufacturing operations in America.
Not long after, Honda made their first four-wheeled vehicle. In 1984, Honda debuted the CRX-HF—the first car to reach an EPA-estimated fuel economy of 50 mpg. In 1990, Honda introduced the Acura NSX as the first aluminum-based vehicle—now a standard in the industry.
In 1995, the Civic was the first vehicle to meet California's Low-Emission Vehicle standard, while in 1998, the Accord was the first vehicle to meet the Ultra-Low Emissions standard. Also, 1998 saw the debut of the Honda Civic Natural Gas, which in 2001 was deemed the cleanest internal-combustion engine tested by the EPA, and way ahead of its time. In 1999, Honda introduced the Honda Insight, the first gas-electric hybrid vehicle, and the most fuel-efficient vehicle in America at the time.
In the 2000s, Honda reached even more milestones, including producing the first compact car in America to get a 5-star rating from the National Highway Traffic Safety Administration, developing the first fuel cell vehicle for daily use, and launching the Honda Insight as the most affordable hybrid car in America.
Contact Bosak Honda Highland to Learn More
There are a lot more Honda achievements to learn about. To learn about the high-achieving Honda vehicles on the market today, contact Bosak Honda Highland online.