The Eighth Generation Honda Accord
The eighth generation of the Accord is the second most recent Accord, running from 2008 to the
2012 model year
. This Accord was one of the largest to ever be released and was considered to be a full-size sedan, with the coupe remaining a mid-size.This vehicle was very popular at our Highland Honda dealer, and we wanted to take some time to look back at it.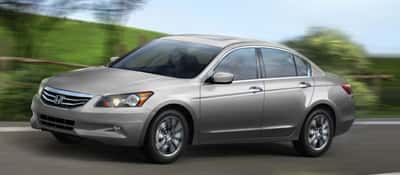 The Debut of the Eighth Generation Honda Accord
Honda debuted the Accord Coupe concept in 2007 at the North American International Auto Show held in Detroit, Michigan. Later in August that year, Honda introduced the official production versions of the sedan and the coupe, which found their way to dealerships the following month.
Both vehicles were initially produced at the Honda plant in Marysville, Ohio, which produced all of the coupe models for the entire global market. Production for the Accord sedan with the V6 engines later moved to the Lincoln, Alabama Honda plant.
Vehicle Overview
The vehicle was available as either a coupe or a sedan with a few different trim options, with the top-of-the-line EX-L offering Bluetooth connectivity, leather seats, and a built-in navigation system. There were two different engine options: a 2.4L four-cylinder capable of 177 hp and a 3.5L V6 capable of 271 hp. No hybrid option was offered during the eighth generation.
In 2011, the vehicle went through a series of revisions. The coupe and the Accord sedan each got new tail lights, front fascia, and a few other features such as a rearview camera coupled with the navigation system. Both engines increased in power and an upgraded five-speed automatic transmission improved fuel economy.
Test Drive New and Used Honda Accord Models at Bosak Honda
Bosak Honda in Highland carries new and used Honda Accord models at their dealership. It's very possible to find a used or even Certified Pre-Owned eighth generation Accord. Our dealership is located at 9800 Indianapolis Boulevard in Highland, which is less than 25 minutes from Merrillville, Indiana by taking U.S. 30 West to Indianapolis Boulevard. Be sure to contact our Honda dealership if you would like to schedule a test drive or have any questions.