Honda Safety Technology Can Make Winter Driving Easier
Winter is on its way here in the Midwest, and one of the most important things to remember about winter is to adjust your driving for safety in snow and on ice. Thankfully, Honda has some state-of-the-art safety technology on their vehicles that can make winter driving a ton easier, and if you're shopping for a new car, truck, or SUV, you should consider visiting us at Bosak Honda Highland and seeing some of these features in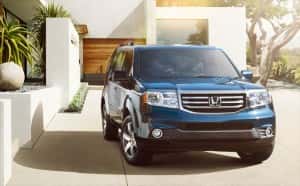 person.
All-Wheel Drive
You can find four- or all-wheel drive on four current Honda models: the Crosstour, the CR-V, the Pilot, and the Ridgeline. While it comes standard on every Ridgeline, you can find it available on all four trims of the 2015 Honda CR-V and all five trims of the 2015 Pilot. The new Crosstour has Honda's Real Time Four-Wheel Drive system as an available feature on EX-L V6 models. The reason all-wheel driving is important is that is significantly improves driving on (or off!) winter roads. It's all because of one word: traction.
In a typical front-wheel drive vehicle, the engine transfers force and torque to the road via two points of contact—your front two tires. That's all fine and dandy until one or both of those points of contact can't get a grip on the road because of snow or ice. All-wheel drive, on the other hand, sends power and torque to all four wheels—sometimes automatically after detecting a loss of traction—giving you the force to get moving and set your front wheels on more steady ground.
Other High-Tech Safety Features
While other Honda safety technology features don't quite have the impact all-wheel drive does, they still provide their safety benefits during the winter as well. We're particularly fond of some off the Honda Sensing features that you can find on select new models:
Lane Departure Warning
Lane Keeping Assist
Collision Mitigation Braking System
Find a Safe Honda for You
Whether you want all-wheel drive or those state-of-the-art safety features, you can get some nice perks for added peace of mind behind the wheel of a new Honda. Contact Bosak Honda Highland today and let us help you find a model that's right for you.