Honda's Android Integration Technology Will Thrill Highland Drivers
At Bosak Honda, we love watching how the automotive and technology industries have grown to compliment each other over the years. We especially love sharing the latest developments to come out of Honda, including a new technology that cleanly integrates Highland drivers' smartphones with their vehicles.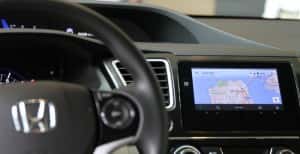 Features that make driving both safer and more convenient always get a thumbs up in our book, and we can't wait to see how this new technology continues to develop.
Android Auto for Honda
The Honda Company has been working on adding safety and ease to the daily commute for years, and this latest effort has come to fruition with the Android Auto concept. Starting in 2015, Highland drivers can expect to see select vehicles that are compatible with Android Auto, and plans are already being made for Honda and Acura models.
A functional prototype of this innovation will be on display at Google I/O 2014, a Google-sponsored developer conference held every year in California. How the Android Auto technology works is simple: drivers only need to plug their smartphones into the car's USB port. From there, all of the features Highland drivers love about their smartphones – voice command control, apps, and even services – are seamlessly displayed through the car's in-dash display, perfectly tailoring the capabilities of the phone to the new environment of the car.
The goal of Android Auto is to help drivers access the data, features, and content of their smartphones in the car without compromising the safety of their driving. This initiative is part of Honda's involvement in the Open Automotive Alliance (OAA), a group that is committed to developing the Android platform in vehicles.
See For Yourself at Bosak Honda
Bosak Honda is conveniently located for Highland drivers at 9800 Indianapolis Boulevard in Highland, IN. Our dealership is open six days a week: Monday through Thursday from 8:30 a.m. to 8:00 p.m., Friday from 8:30 a.m. to 6:00 p.m., and Saturday from 8:30 a.m. to 5:00 p.m. If you have any questions about the emerging Android Auto technology, or want to take a look at any of the Honda vehicles we have available, feel free to stop by and say hello!