Is it Time for an Oil Change? Head to Bosak Honda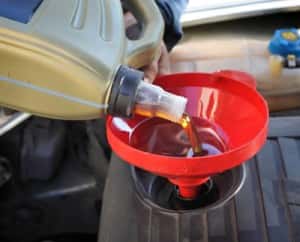 Oil changes are recommended each time you put 3,000 miles or so on your vehicle. Highland drivers needing an oil change are encouraged to bring their car, truck, or SUV in to their Honda dealership in Highland where our service technicians will change out your old oil and replace it with fresh, new oil to make sure your vehicle continues to deliver peak performance.  We'll also make sure all other fluids are topped off and change any filters that need to be replaced.
Meaning Behind the Numbers on Oil Containers
While you're waiting for your car, you may look at all the oil containers on our shelves in our service department and wonder what the numbers mean. These numbers designate the oil's viscosity or weight, or the thickness of the oil. The higher the viscosity level, the thicker your oil is, and vice versa. It's important that you use the correct oil in your car so that it can flow easily yet provide enough friction for proper engine combustion.
You may see a combination of numbers and lettering, such as 10W-30. This is often referred to as multi-viscosity or all-weather oils, which more and more people are using. The "W" stands for winter, with the number before standing for the viscosity when the oil is cold, and the number after referring to the viscosity of the oil in warm weather.
For newer automobiles, it's highly recommended that thinner oil is used as there isn't as much space between the parts of a new car's engine. Older models usually require thicker oil due to the increased space between the engine's moving parts that results from continued wear and age.

Stop by Bosak Honda for Your Next Oil Change
Bosak Honda, located at 9800 Indianapolis Blvd in Highland, is your one-stop shop for all of your automotive needs, including oil changes. We'll be sure to put the proper oil in your vehicle to make sure it continues to run smoothly. The next time you need an oil change don't hesitate to stop by our dealership or contact our service department at 800-949-7915 to set up an appointment.