New Honda Technology Focused on Safety
One of the things we love about being a Honda dealer is that we get to hear about all of the new technology Honda is developing that we will hopefully see in our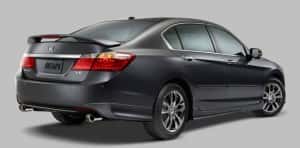 Highland showroom soon. The most recent piece of tech that we've had our eyes on is a live traffic warning system that lets drivers know about upcoming traffic signals.
It can even do something about a red light if the driver isn't paying attention. If you've ever seen anyone run a red light—and who hasn't?—then the safety advantage of this should already be clear.
How Does it Work?
This is the early version of a vehicle system known as Car2Car Communications, and it does exactly what it sounds like. The future of driving could involve cars "talking" with each other over a network to maximize safety and prevent collisions.
Honda's system in particular uses an IR communication network that is currently being tested out on about 100 cars in Japan. It focuses on driver's feedback to the notification system, with the eventual goal to have limited control over braking, specifically to better respond to red lights the driver may have not noticed.
A New Standard Feature?
With Honda continually revisiting the idea of what should be included as a "standard feature" on their vehicles, it may only be a matter of time before something like this comes alongside Bluetooth HandsFreeLink, Honda's i-MID infotainment system, or their rearview camera—all three of which come standard on vehicles like the 2014 Honda Accord.
However, Honda has yet to confirm which versions of this system will eventually end up in their vehicles.
Visit Bosak Honda Highland Today
If you're looking to learn more about the current safety technology available in brand new Honda models, what better way is there for you than to see it firsthand? Stop by Bosak Honda Highland and let our sales experts tell you about all of the great features you can find on a brand new Honda.
We can't wait to show you all of the new tricks and toys that Honda makes available to each and every driver of vehicles like the Accord, Civic, CR-V, and more.