Every New Honda Model Comes Standard With a Rearview Camera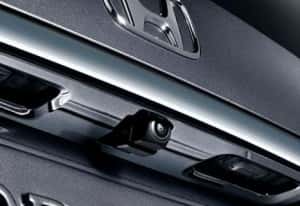 Honda is always one step ahead of the curve when it comes to high tech features and safety. Nothing proves that more than the fact that, new for 2015, every Honda model now comes with a rearview camera as standard. Unlike many other automakers that strip the content from base models to make their prices seem lower, Honda makes sure that even the most affordable models in their basic trims get important safety features, like a standard rearview camera. That's just one more reason that you should consider a new Honda model here at Bosak Honda when it's time to upgrade!
The Essentials for Safety
The standard rearview camera isn't just a nice feature – it really is essential for the safety and security of your vehicle, family, and everyone else out there on the road. In fact, the National Highway Traffic Safety Administration set a deadline requiring all new cars sold to have this important feature by 2018. Why would you wait until other automakers are required to include a rearview camera when you know that all Honda models already come with one?
The Honda rearview camera makes reversing and parking exponentially safer. It gives you a clear, unobstructed view from the rear of the car, so you can avoid running into anything that might damage your car, or any people, pets, or children that might be injured. There's a good reason that the NHTSA is requiring rearview cameras in all cars by 2018: over 200 people were killed and 15,000 people were injured in what are called "backover" crashes. The NHTSA also found that children under the age of 5 and adults over the age of 70 accounted for almost half of those fatalities.
Find Out More at Bosak Honda Highland
You can see that it's very important to have this technology in your car, so you can help make the roads, sidewalks, driveways, and yards in your community safer than ever. Visit Bosak Honda in Highland today and let our friendly sales team show you the latest Honda rearview camera technology, available in everything from the affordable Honda Fit to the new high-tech new 2016 Honda Pilot. We're located at 9800 Indianapolis Boulevard in Highland, and we hope to see you soon!