How to Prepare for Safe Winter Travel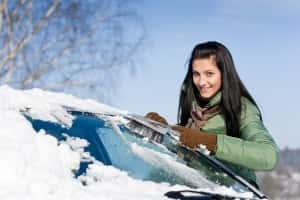 The arrival of the winter months can mean cozy fireplaces, holiday merriment, playtime in the snow—and also less-than-ideal driving conditions. Come snow or sleet, commuters and holiday travelers must often brave bad weather when Jack Frost is in the air.
When winter driving is a necessity, motorists can plan ahead for safe travel by following some basic winter driving tips.
Pre-Trip Prep
Before your tires ever hit the road, there are pre-travel safety measures you can take to help ensure a safe journey through the ice and snow.
First, perform pre-travel maintenance on your vehicle. Check things like the battery, windshield wipers, and antifreeze. Also make sure your windshield washer reservoir is full and that you're using a no-freeze washer fluid. You can check with a professional mechanic to help ensure your vehicle is winter-road-ready.
Before driving, it's always important to get adequate sleep—and this is especially crucial if you'll potentially be encountering hazardous road conditions. You should also plan your route well and check ahead for road closures, winter weather reports, and other potential pitfalls.
When warming up your vehicle prior to heading out into the cold, never do it in an enclosed area, like a closed garage.
Sound Tires, Safe Trip
Check your tires before you drive in winter. Make sure your tires are properly inflated and are in good condition.
Changing to all-weather tires or snow tires is advisable for safe travel in icy and snowy conditions. Tire chains are also recommended—even mandated in some places—if you'll be driving in a mountainous or steep location.
AAA further advises drivers not to mix radial tires with other types of tires.
Be Prepared
Before heading out in winter weather, have your vehicle stocked with the following items:
Jumper cables
Abrasive material, like cat litter or sand, to provide traction if you get stuck in snow or slush
Flashlight and extra batteries
Shovel
Windshield scraper and snow brush
Blankets
Gloves
Signaling devices, like flares
If you're going on a long trip, also bring along the following:
Food and water
Needed medications
Cell phone
Time to Get Winter-Ready
Contact Bosak Honda Highland or visit our service department today for all your winterizing and vehicle service needs. We'll make sure your vehicle is safe and sound for winter driving, so you can brave the snow with total confidence and peace of mind.