Spring Break Road Trip Tips
It's no secret that pretty much every student is counting down the days toward Spring Break. Some people will be flying somewhere exotic, some planning a nice staycation at home, and even more will be setting out on a road trip. We at Bosak Honda want you to enjoy your trip, but we also want you to be safe on the road as well.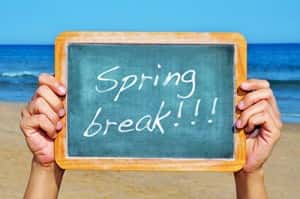 Here are some tips to make the most out of your spring break road trip.
Friends Look Out For Each Other
Chances are you'll be road tripping in a group, so why let one friend do all of the driving? A 2005 poll from the National Sleep Foundation's showed that adults between 18 and 29 are more likely to get fatigued behind the wheel than any other group. Thus, it's exceptionally wise to set up a rotation. Either take turns by hours or by the number of miles driven. Your group should also keep an alert passenger riding shotgun. This will help keep the driver awake and four eyes are better than two for spotting road hazards.
It's also very important to make sure you have a daily designated driver to make sure everyone is staying safe while having fun. If the designated driver appears to be impaired, don't take any chances. Call a cab to take you to your hotel. You've got a whole vacation to enjoy; there's no reason to take unnecessary risks.
Do Some Recon
Familiarize yourself with the area before you go out. Use sites such as MapQuest, Google Maps, and TripAdvisor to plan your days accordingly. When you arrive at your hotel, look up numbers for a taxi, ask around for a typical price on the taxi, and take a card from the front desk of the lobby in case you get lost. If your car has navigation, write down the addresses so you have a smooth ride back.
Take Extra Precaution
It would also be wise to bring an extra map just in case your GPS isn't working alongside an extra battery or car charger. Lock the doors and don't keep any of your valuables in plain sight either. Tourists are often a prime target for thieves.
You should also inspect your vehicle before you leave town. If you need to replace any parts, don't procrastinate. Take care of it now; Bosak Honda Highland will have everything you need.