Don't Get Stranded This Summer; Schedule Your Spring Vehicle Maintenance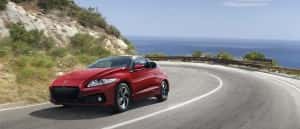 Depending what area of the country you live in, your vehicle can emerge from the cold temperatures and frozen conditions of winter a little—or a lot—worse for wear.
As you turn your attention to spring cleaning this year, bear in mind that your automobile could use a thorough going over, too. In some cases, neglecting this post-winter checkup could leave you stranded come summer.
As the sun starts to warm up and the frost and snow begin to retreat, motorists—all drivers, but especially those with older vehicles—are well advised to head into their local dealership for a springtime checkup.
Spring Checkup Checklist
In getting your car over its winter blues and all ready for summer, the following things should be checked out and, if needed, replaced:
Battery
Windshield wipers
Brakes
Tires
Belts and hoses
Oxygen sensor
Air-conditioning
Oil and other fluids
Your battery can overwork itself during the winter. Some signs to watch for, to determine if you're running on a weakened battery, are dimming interior lights and headlights and power components, like your power windows, taking longer to operate.
Even if your car isn't displaying these signs, it's wise to get your battery checked in the aftermath of winter.
Be sure to have your tire pressure and tread checked, as well, and it's also a good idea to have your tires rotated at the close of winter.
It's also extremely important to have your brakes checked. Brake components can get corroded from salt on the roads during winter, and slick road conditions can really tax anti-lock brakes.
If you thought winter was tough on your vehicle, keep in mind that some components, like your battery, can actually take a bigger hit during the summer. You work hard to get your body in shape for swimsuit season, so remember that it pays to get your car in shape for summertime, too.
Don't get stranded by automotive problems on your spring road trip or summer vacation. Many post-winter, pre-summer vehicle problems can be avoided with a little preventive maintenance.
Don't Delay Your Car's Checkup
Drivers can rely on the friendly team of experts in the Bosak Honda Highland service center for all their spring maintenance needs. We'll give your vehicle a thorough going over and get it ready for the heat of summer so you can rest easy as you hit the road.
To schedule your spring service appointment, visit our dealership at 9800 Indianapolis Blvd. in Highland or contact us today.