Stop Scraping Your Mirrors in a Winter-Ready Honda
There are some perks that drivers don't really appreciate until they've been in a tight spot, and heated mirrors are one of those features. You can find this wonderful feature on many new Honda models, and while we know that you may not choose a trim level specifically for heated mirrors, we think you should reconsider.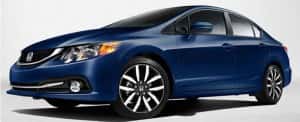 Our team here at Bosak Honda in Highland has been compiling stories from our drivers about how Honda amenities have helped make winter more bearable, and we've got one right here to let you know just how nice it can be to have heated mirrors.
Heated Mirrors… A Stress Reliever?
I didn't even know that my Honda had heated mirrors when I bought it; I went for the new Civic Sedan EX-L because I wanted to add on navigation and voice controls for my phone; the heated mirrors were an added benefit. It wasn't really something I thought about until I went out to find my car covered in ice after a long day at work and I just didn't want to freeze my butt off scraping down every inch of my car.
So I got into the driver's seat, turned the key, and turned on the defrost, setting my heat on high. But I wasn't going to be able to safely get out of my parking spot if I couldn't see out of my mirrors—and that's when I remembered seeing "heated, power-adjustable side mirrors" in my Civic manual shortly after I drove the model home from Bosak Honda in Highland.
With the help of my heated mirrors, I was able to sit in my driver's seat, listen to music streaming straight from my phone, and relax after a long day as my car completely defrosted itself.
Warm Up in a New Honda this Winter
All-wheel drive, heated seats, and remote start are all features that drivers tend to think of as winter armor on their vehicles, but we think that heated mirrors often get overlooked when they can help you out quite a bit. And practically every one of our new Honda models can be had with heated exterior mirrors.
Contact Bosak Honda in Highland today and let us find you the right winter warrior to get you through the harshest weather and set you out on the other side, ready for spring.