Used Honda Civic
Enjoy Unparalleled Value, Efficiency, and Reliability With a Used Honda Civic
Among used automobiles, the Honda Civic is a perennial bestseller. Drivers in the market for a used car are generally looking for a car that will not only save them money up front, but will continue to save them money over the vehicle's lifetime – and the Honda Civic has built a strong reputation for doing just that. A
used Honda Civic
has much lower running costs than most used vehicles thanks to its solid reliability, low maintenance costs, and great fuel economy.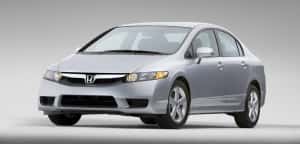 Choose From a Range of Honda Civic Models
One of the great things about the Honda Civic is that, since it sells so well as a new car, you can find an abundance of different models on the used market. So if you're looking for a basic used commuter car, you'll find quality, low-mileage Civic models for under $10,000. And if you're interested in a late-model Civic with a full range of features, you'll find plenty of models that fit your needs.
Great Fuel Economy and Features
Perhaps the most well-known attribute of the Honda Civic is its class-leading fuel economy. More recent used models feature a 1.8L I4 engine and deliver an EPA-estimated 36 mpg on the highway and 25 mpg in the city, for a combined 29 mpg.* Earlier models from the mid-aughts usually have a 1.7L engine that's capable of providing up to 27 mpg in the city and 34 mpg on the highway.*
You'll also find an excellent array of features on used Honda Civic models. Most recent models that you find will have features like cruise control, Bluetooth connectivity, keyless entry, CD/MP3 audio system, full power accessories, and much more.
Test Drive a Used Honda Civic Today!
Here at Bosak Honda, we stock a great variety of pre-owned vehicles from a variety of automakers, so no matter what kind of used vehicle you're looking for, you can find it here at Bosak. To find out what used vehicles we have in stock, including the Honda Civic, you can browse our used inventory online or contact us to schedule a test drive.