Used Honda CR-Z
A Used Honda CR-Z is a Sporty Alternative to a Hybrid
It's hard to argue with the efficiency of a hybrid. By combining a gas engine with an electric motor and battery pack, a hybrid can take you where you need to go for far less money than most cars. The problem with a lot of hybrids is their unimpressive performance; this is where the CR-Z breaks with convention. This sports hybrid is peppier than a lot of slow-moving hybrids, providing a truly fun-to-drive vehicle. You can usually find a variety of
used Honda CR-Z models
at Bosak Honda in Highland.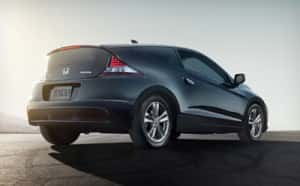 Performance and Fuel Economy
Starting with the 2013 Honda CR-Z, the car had a 1.5L four-cylinder equipped with an electric motor to deliver 130 hp and 140 lb-ft of torque, making it quite speedy for its size. You also have a choice of either a six-speed manual or a CVT with steering wheel-mounted paddle shifters. In terms of fuel economy, these models can get up to 36 mpg city and 39 mpg highway.
The 2011 and 2012 models were a little slower with a power output of 122 hp and 128 lb-ft of torque. Fuel economy wasn't any higher though than the more recent models.
Vehicle Features
The first generation Honda CR-Z came in three trims: base, EX, or the EX with a navigation system. Along with most of the Honda lineup, the 2013 model year saw a few new standard features added such as a rearview camera and Bluetooth connectivity. Other standard features included automatic climate control, iPod connectivity, and a six-speaker audio system.
Higher-end luxury features on the EX trims included a better audio system, leather-wrapped steering wheel, and upgraded seats with red and black upholstery. The navigation system package gave drivers improved Bluetooth functionality along with a touchscreen.
Test Drive a Honda CR-Z at Bosak Honda in Highland
Are you ready for a sporty hybrid in your garage? Then come to Bosak Honda in Highland for a test drive. We may also have other used hybrids in stock like the Insight and Civic that might also interest you. Our dealership is located in Highland, Indiana at 9800 Indianapolis Blvd., not too far from the Merrillville area.