Used Honda Crosstour
Used Honda Crosstour Models Available at Bosak Honda
The Honda Crosstour started as a hatchback/wagon version of the Honda Accord. After a few years, it was spun off as its own model. While the styling changed a little bit, the Honda Crosstour is still very much a great choice for people looking for the style of the Accord with a little bit more room for cargo. At our Highland Honda dealer, we typically have used Crosstour models ready to test drive. Let's look at some you may encounter.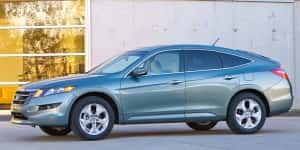 Used Honda Crosstour (2012 to Present)
Since the Crosstour was officially spun off for the 2012 model, the used Honda Crosstour models you're going to find are going to be almost like new. Compared to the older Accord Crosstour models, these are a bit taller, but it wasn't fully redesigned. All-wheel drive is available, so Crosstour models can be great for winter driving. Models come standard with a 2.4L four-cylinder engine producing 192 hp and 162 lb-ft of torque, but there's also a 3.5L V6 with an output of 271 hp and 254 lb-ft of torque available. Four-cylinder models can get up to 29 mpg highway; fuel economy drops a little bit but not much as the V6 cars are rated at 27 mpg highway.
Used Honda Accord Crosstour (2010 to 2011)
If you're looking for a model that's a little more affordable, then you may want to check out the two model years released under the Accord nameplate. Models weren't that different than the current Crosstour models, but there are a few things to be aware of. For one, the four-cylinder was not available; you could only get the 3.5L V6, which produced the same 271 hp. The transmission was a lower five-speed automatic, but all-wheel drive was also available. Accord Crosstours came in two different luxury trims: EX and EX-L.
Test Drive a Used Honda Crosstour at Bosak Honda
You can find the used Crosstour models currently in our inventory here on our website. To get a better look and take a test drive, come to Bosak Honda. We're located at 9800 Indianapolis Boulevard in Highland, Indiana. You can reach us at 219-922-3100 if you have any questions.