Which Hondas Are the Best 4WD Cars?
If you're shopping around for the best 4WD cars to help you get through a tough and snowy Midwest winter, we think you should know that Honda is the way to go. While you can find four-wheel drive on the Crosstour, Pilot, CR-V, and Ridgeline, we want to focus on just the 2014 Honda Ridgeline for today.
After all, this is a powerful pickup that can serve you for work or family needs all year round, and with standard four-wheel drive, it just gets better in the winter.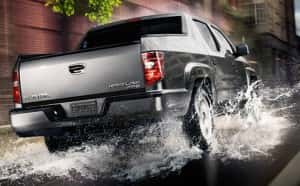 The Ridgeline's 4WD System
One of the things we love about the Ridgeline is that it is the only Honda with standard four-wheel drive. It's the only one where we could say that it makes sense for it to be standard, too. While there are many drivers of the CR-V and the Pilot who may want that convenience, there are also many who don't. If you're a truck driver, four-wheel drive is rarely something you don't want.
Honda's Variable Torque Management 4-Wheel Drive system (VTM-4 for short) directs the 250 hp of the Ridgeline's 3.5L V6 engine where it needs to go when it needs it. It operates automatically, sensing any loss of traction and directing power to the rear wheels to get you going again, but you can also activate it manually.
That means if you're stuck on ice, mud, lose gravel, or some tightly packed snow, you can lock the rear differential and direct as much as 70% of your engine's power to the rear wheels to set you moving. It will stay manually locked at speeds of up to 18 mph in both forward and reverse, too.
If you find yourself needing to haul someone else out of the snow, the Ridgeline can also tow as much as 5,000 pounds when properly equipped.
Take On Winter in a Ridgeline
We have the 2014 Ridgeline in stock now, and if you're a fan of pickup trucks, we think you'll love what it can do for you. And if you find yourself preferring crossovers, the Crosstour, CR-V, and Pilot all make for smart winter vehicle choices thanks to their four-wheel drive and all-wheel drive options.
Contact Bosak Honda Highland to take one for a test drive.