Winterizing Your Car: It's That Time of Year Again
At Bosak Honda Highland, we view take our responsibility to our drivers very seriously, and part of that responsibility is in helping you take care of your car. So we brought someone over from the service center to give you tips on winterizing your car before winter is in full effect.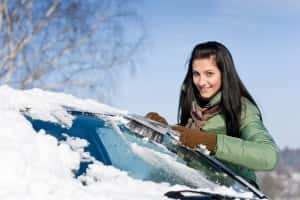 Five Tips to Winterize Your Car
Depending on how well you've cared for your car throughout the year, some of these tips may not be necessary, but we've got them here just so you can have your bases covered:
Emergency Kit: You should have one of these in your car all year long, but when winter comes, you'll want to make sure you have some non-perishable foods, a couple bottles of water, some gloves, and a winter blanket or two.
Check Belts and Hoses: The cold causes everything to become a bit more rigid and brittle, and it could turn a worn hose or belt into a cracked and broken one overnight.
Replace Your Wipers: Most people don't switch out their old wiper blades until they realize during a snowstorm or heavy rain that they aren't doing any good. Don't be caught unprepared with cracked wiper blades; replace them before you need them.
Keep Your Fuel Tank Full: If you regularly drive with less than half a tank, you could find your fuel lines frozen from the condensation that builds up. Keep a full tank and consider using an additive like Heet to reduce the risk of freezing.
Check Your Battery: If you're not sure how to check the reliability of your battery, let us do it for you. And remember that once a battery has died, it will never be up to full strength again. If yours has died before, consider replacing it before winter.
Schedule a Service Appointment
In addition to winterizing your car, you should make sure that you have had your tires rotated and oil changed before the snow sets in. We can't think of a time that's more important to be up to date on auto maintenance than winter; the last thing you need is for your car to break down on you or have a blown out tire and leave you stranded in the cold.
Schedule your service appointment at Bosak Honda Highland today.